---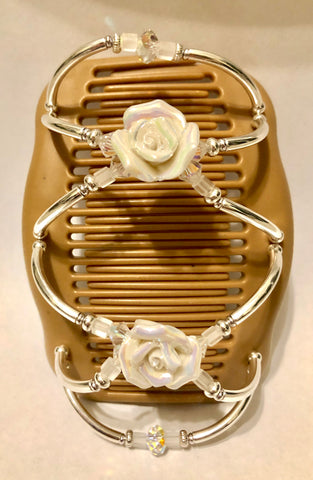 White Rose
KOOL KOMBZ
---
This 3"x4" hair accessory holds most hair types and lengths: long, short, thick, thin, fine & curly
Color description: Turquoise Acrilic rose shaped beads with jade opal Swarovski crystals and silver plated beads 
NOTE* don't use hair spray on it and try to keep away from water. Silver plated beads like to stay clean and dry. 
Recommended* Use a towel with a little soap and water to wipe the teeth of your Kool Kombz carefully without getting the silver plated beads wet. Once a month or more often depending on how often you use it. This will keep your combs from bending and will make it last longer. 
Crystal Swarovski Elements & Silver beads make this updo hair piece stunning. Different color combs
The double combs don't break, don't give you a headache & they don't slide out of your hair
The combs sit flat on your head unlike other hair claw clips, so you can lean back on it comfortably
This gorgeous color is perfect for a simple splash of color to your wardrobe especially around the holiday seasons. 
Looks best when the comb color is closer to your own hair color
Included: Luxury Velvet Bag
Easy, Stylish, Comfortable and Durable

for all types of hair
HANDMADE with 2 rubber combs. These combs are the best: they do not break, instead they are soft and bendable , they do not give you headaches and they are flat on your head, which allows you to be comfortable while driving, leaning on a sofa or even falling a sleep with them on.
We use a power cord to string the crystals with. The cord has been tested for 5 years and we give a warranty on it. It is super strong. Warning: do not have rings on while putting the combs on, so you do not hurt the power cord. The size of the comb is perfect to help hold layers in as well.
We use SWAROVSKI crystals in all of our designs. This style is made with Silver Plated beads which you should keep away from water or dry it right away if it gets wet. This can make a beautiful hair piece for work, every day shopping hairstyle, evening out with friends and family. We have been a proud partner with Swarovski since 2014.
You can have a gorgeous French twist, a Ponytail or Half-up/Half down style in just SECONDS !
Check out this customer testimonial video:



---
More from this collection